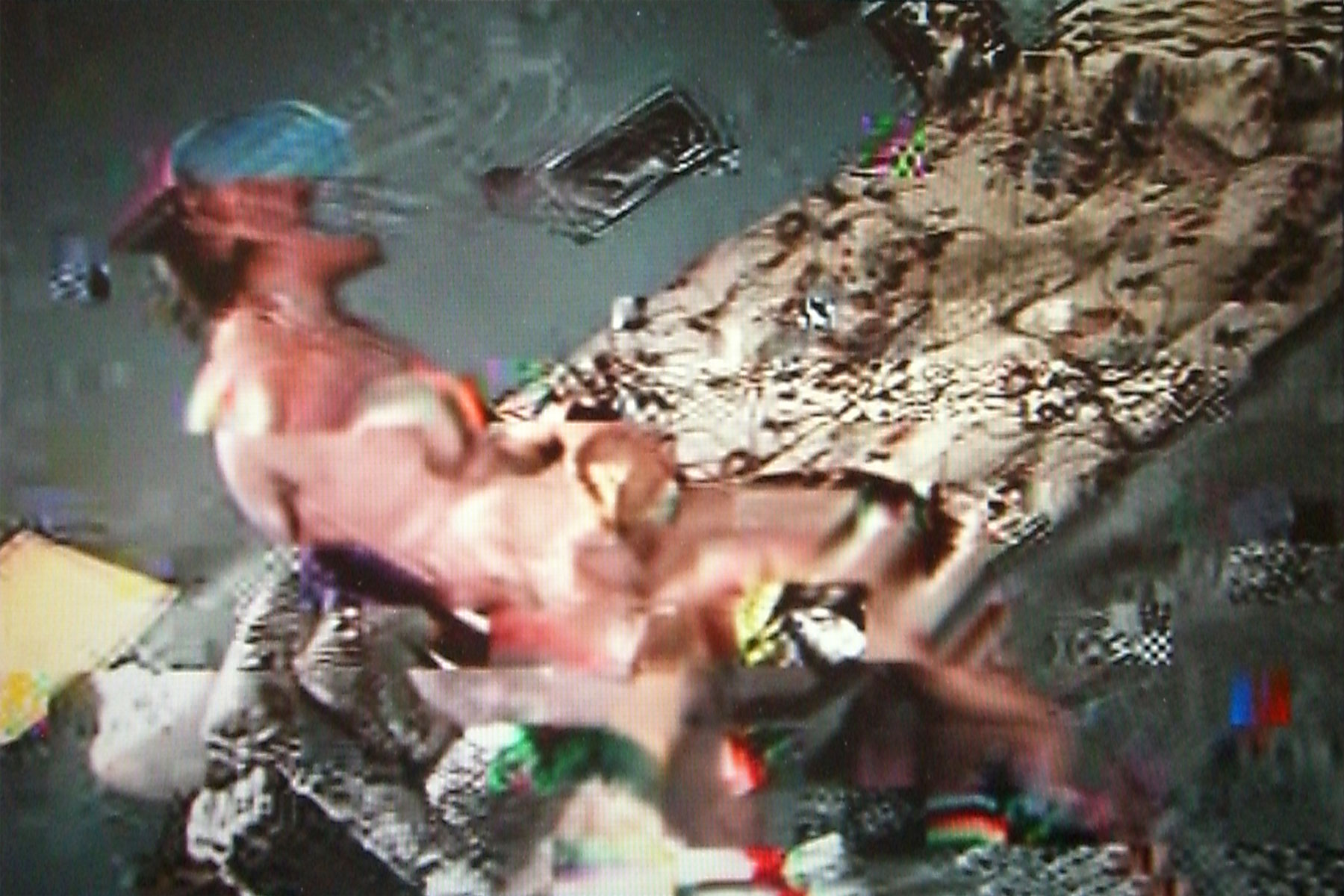 The con­tes­tants are: An Inter­net-Porno and The Old and New Tes­ta­ment. The fight takes place in the dig­i­tal world. Porno and Bible are both files. They are pure­ly syn­tac­ti­cal­ly cod­ed enti­ties in a word: They're texts. At the begin­ning of the movie we see, how the video is cre­at­ed. The Bible-file is opened, copied, the porno file is opened as a text, the Bible text is past­ed into the video-text, saved as a video and then played. One medi­um is inter­pret­ed in anoth­er medi­um. The Bible lit­er­al­ly becomes film.
This method results in a deep cor­rup­tion of the video. This arti­fact-video has a prop­er­ty that's unique in the dig­i­tal world: It can­not be dig­i­tal­ly saved or copied. A dig­i­tal para­dox. Only by trans­fer into the ana­log domain is it pos­si­ble to cap­ture the fight. An echo of the inscrutabil­i­ty of both faith and sex. One is remind­ed of the sec­ond com­mand­ment: "Thou shalt not make unto thee any graven image".
By fus­ing two func­tion­al ele­ments they cor­rupt each oth­er and become dys­func­tion­al. Sim­i­lar to the works of Pablo Picas­so or Fran­cis Bacon, the true nature of the object is evoked by its frag­men­ta­tion and dis­tor­tion. In "porno vs. bible" the fight occurs on sev­er­al lev­els: text vs. video, old vs. new, mind vs. body, male vs. female. The artist mere­ly acts as an exper­i­menter or box­ing pro­mot­er. The fight hap­pens in the mind of the view­er. He's the judge.
The fun­da­men­tal ques­tion of pornog­ra­phy and voyeurism is: What is hap­pen­ing? – Yes, indeed they do it! Pornos aim at a well-known end: The epiphany of the ejac­u­la­tion. The fun­da­men­tal ques­tion of reli­gion is: What does it mean? The end is also well-known: The Apoc­a­lypse.