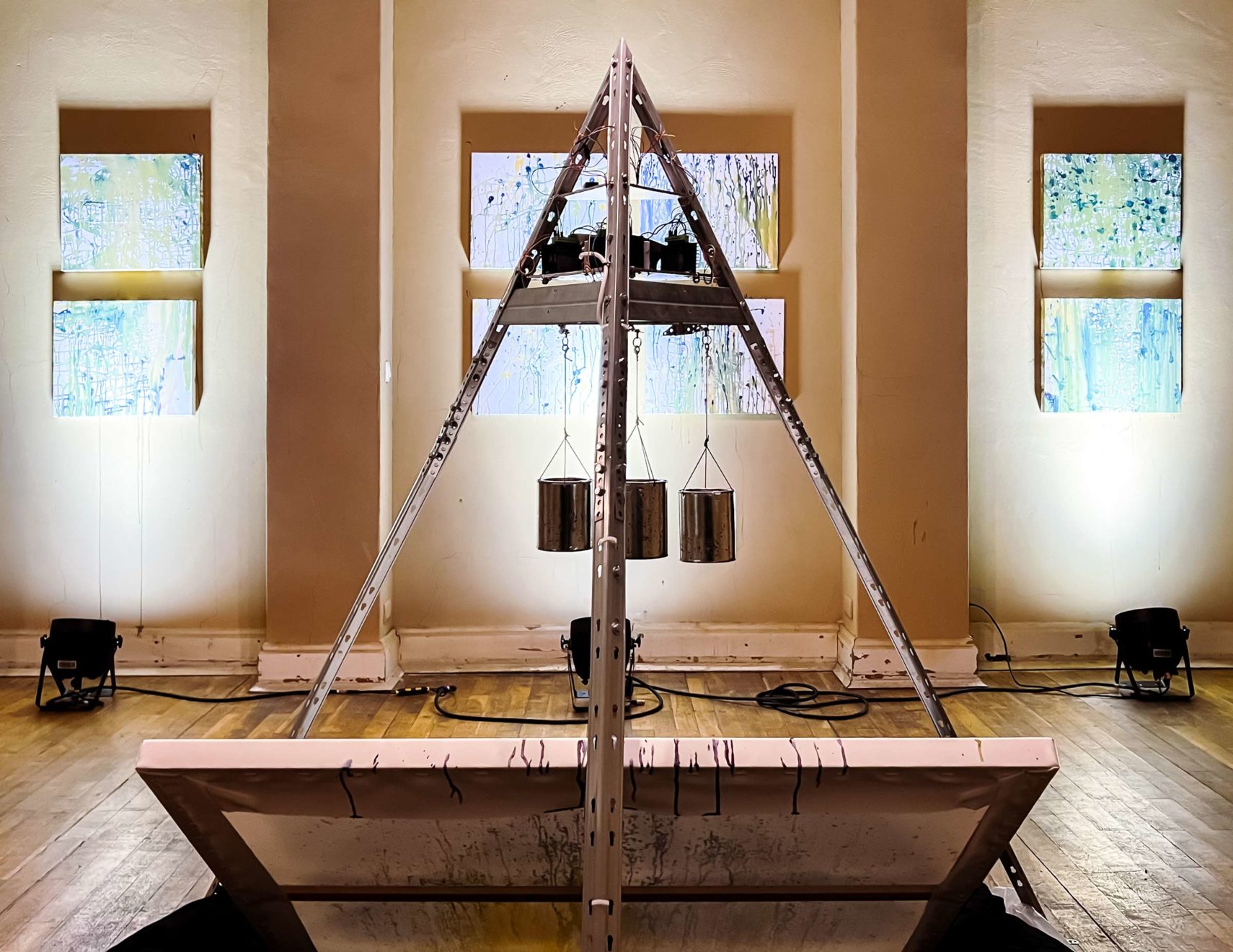 Installation, Performance, Paintings
2022
We must think of Pol­lock as a happy machi­ne! The Drip Machi­ne is swin­ging buckets fil­led with red, yel­low and blue paint over and across a large, empty can­vas. Its machi­ne brain gene­ra­tes motor melo­dies for the actua­tors that set the pen­dul­ums in moti­on. A timid pia­nis­si­mo turns into a swin­ging alle­gro, grows to an exu­berant forte and bey­ond – at its extre­me, the machi­ne is almost taking its­elf apart.
As with Max Ernst, Pol­lock or Janet Sobel, the paint drips onto the can­vas in com­plex, unpre­dic­ta­ble pat­terns. But the result is not what you think: The can­vas refu­ses to accept the paint, sim­ply let­ting it roll off without lea­ving a trace. The machi­ne goes on, reacts, dan­ces, and con­stant­ly crea­tes new pos­si­ble images — even if not­hing remains. A pain­ting Sisy­phos.
Is pain­ting all about the pro­cess and per­for­mance – or is it the per­ma­nence of a pain­ting that mat­ters? Let's find out! That's what the Drip Machi­ne is for: to exami­ne our intui­ti­ons – not just by argu­ment but by expe­ri­ment. Intui­ti­ons about arti­fi­cial crea­ti­vi­ty, aut­hor­s­hip, expres­sio­nism, aes­the­tic auto­ma­tisms about com­po­si­ti­on, color, chan­ce, mate­ri­als, tech­ni­que, authen­ti­ci­ty and what's ama­zing.
That's why I pre­pa­red ten can­va­ses with a wide varie­ty of sur­face pro­per­ties and com­po­si­ti­ons. As a per­for­mance and expe­ri­ment, I jum­ped in and held these can­va­ses into the Drip Machi­ne, saving a few of the images from obli­vi­on.
The machi­ne keeps going. Even if some­thing remains – or ever­ything pas­ses away.
The Drip Machine Paintings