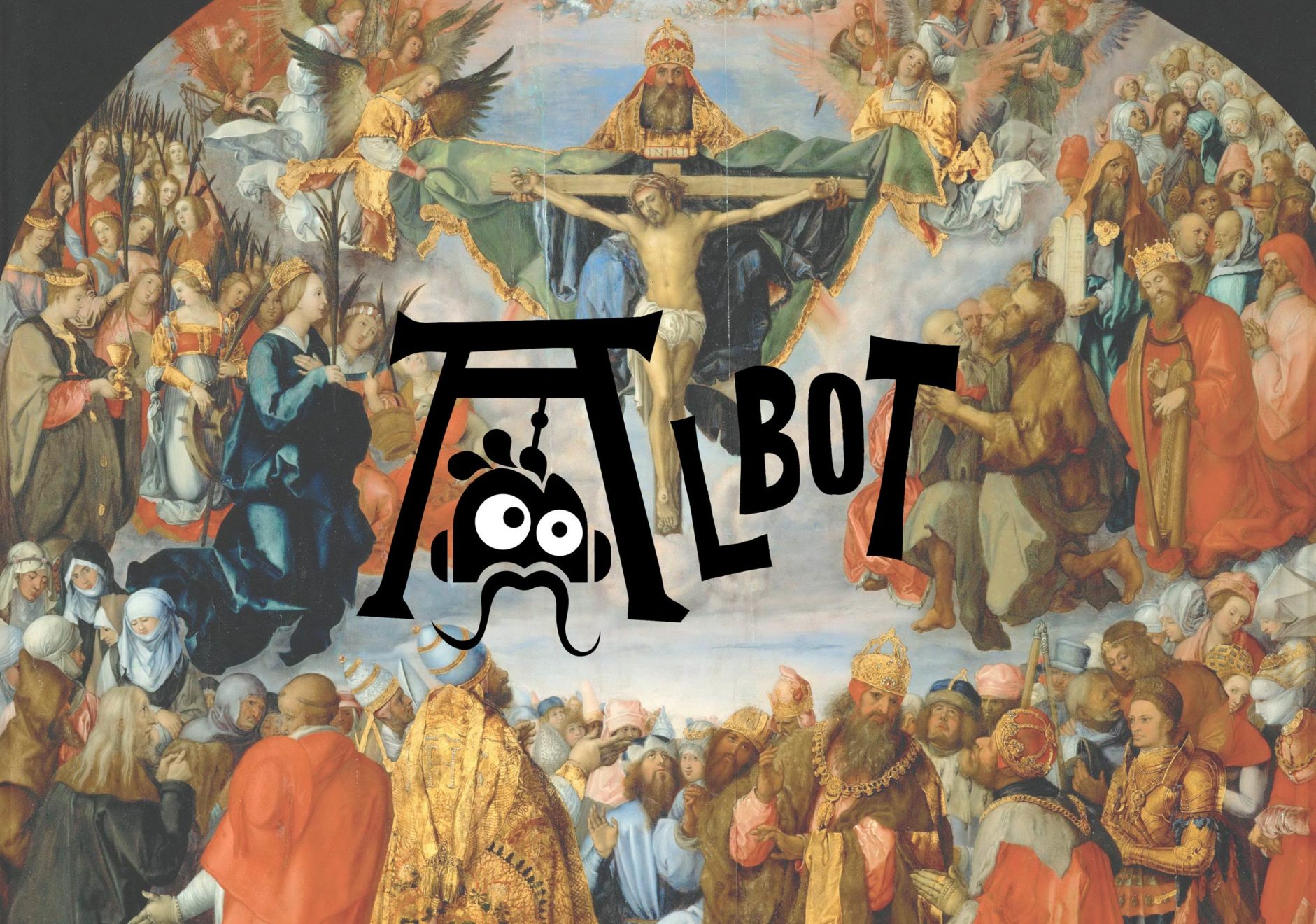 One of the pro­ject ideas I pro­po­sed at the Hacka­thon was to crea­te a chat­bot for art exhi­bi­ti­ons. Over the next few days, my team and I built a limi­ted but func­tio­n­al pro­to­ty­pe. We cal­led it Albot – The Art Histo­ry Chatbot.
You're at a muse­um and want to find out more about an art­work you like? You no lon­ger have to dis­tract yourself and others, just to take some blur­ry pho­tos – pho­tos that you'll strugg­le to find later any­way. The solu­ti­on is simp­le: Just ask Albot, the art histo­ry chat­bot! Type-in the num­ber or name of the art­work and Albot immedia­te­ly sends you a high-qua­li­ty image, along with all the essen­ti­al infor­ma­ti­on, strai­ght to your phone. As a simp­le Facebook‑, Twit­ter- or Text-Mes­sa­ge. Even years later, you can search and find every art­work in seconds. But that's just the begin­ning. Albot can do much more. He will access the museum's meta­da­ta for you and ans­wer ques­ti­ons about the art­work, like: Who's the artist? What's the title? What were the his­to­ri­cal cir­cum­s­tan­ces? What does it depict, refer to or mean? What's the tech­ni­que? What's the con­ser­va­ti­on histo­ry? What did peop­le write about it? What was its influ­ence?
There's no limit to the extent of infor­ma­ti­on, such a Chat­bot is able to pro­vi­de. It doesn't have to be just plain text eit­her! It can be hyper­links, images, audio or video as well. But what's more important than any amount of infor­ma­ti­on. The chat­bot initia­tes a con­ver­sa­ti­on. It's not a didac­tic, dog­ma­tic mono­lo­gue. It's a dia­lo­gue. A dia­lo­gue bet­ween the view­er, the art­work and art history.
Using Albrecht Dürer's famous "Aller­hei­li­gen­bild" as our pro­to­ty­pi­cal exem­plar, we collec­ted, ana­ly­zed and pro­ces­sed all the infor­ma­ti­on and meta-data that's avail­ab­le in digi­tal repo­si­to­ries. We con­duc­ted exten­si­ve user-inter­views and collec­ted a wide range of ques­ti­ons that users actual­ly have. Then, the team mem­bers who were art­his­to­ric experts about ever­ything rela­ted to Dürer, com­pi­led a cor­pus of ans­wers to these ques­ti­ons. We sur­vey­ed and tried out several chat­bot frame­works, each had their par­ti­cu­lar strenghts and signi­fi­cant weak­nes­ses. The night befo­re the final pre­sen­ta­ti­on, I've imple­men­ted a simp­le but func­tio­n­al chat­bot, using the Dex­ter frame­work. I lear­ned that the most important part of buil­ding a chat­bot is the script. It's all about designing the con­ver­sa­ti­on. To make it fun, play­ful and enga­ging. Not just a collec­tion of stil­ted­ly wor­ded fac­to­ids. Con­ver­sa­tio­nal empa­thy comes first. The tech­no­lo­gy is secondary.
My spe­cial thanks and gra­ti­tu­de to Dr. Harald Klin­ke, Head of the Coding Dürer Hacka­ton for invi­t­ing me! Also, thanks to the mem­bers of my team and to all the ama­zing par­ti­ci­pants of the hackathon!
-dlv
Links:
http://codingdurer.de/
Dr. Harald Klin­ke, M.Sc., Assi­stant Pro­fes­sor, Edi­tor of the Inter­na­tio­nal Jour­nal for Digi­tal Art Histo­ry, Insti­tut für Kunst­ge­schich­te, Lud­wig-Maxi­mi­li­ans-Uni­ver­si­ty Mün­chen.
https://www.kunstgeschichte.uni-muenchen.de/personen/wiss_ma/klinke/index.html
[Unfor­tu­n­a­te­ly, Albot – The Art Histo­ry Chat­bot is not online anymore.]